William G. Roark
Hamburg, Rubin, Mullin, Maxwell & Lupin is pleased to announce that William G. Roark recently received the Special Achievement Award from the Pennsylvania Bar Association (PBA) recognizing his work in starting up the Association's Medical Marijuana & Hemp Law Committee several years ago. Special Achievement Awards are given at the behest of the PBA Board of Governors. They recognize those lawyers and individuals who have provided time and resources to improve the association and the legal profession.
In 2017, Bill co-led – along with Andrew B. Sacks and Jerry R. DeSiderato – the successful launch of the PBA Medical Marijuana & Hemp Law Committee and they have continued to serve as its leaders since then. The committee sprang to life immediately and acted as a conduit for information and resources as the legalization of medical marijuana came into being. The committee quickly focused its attention on the various aspects of medical marijuana, creating subcommittees to monitor areas such as zoning and land use, health, legislation, education, employment and others. It has held several successful CLE symposiums which have served to educate all individuals associated with and affected by the medical marijuana issue. The committee continues to actively monitor the various aspects of medical marijuana and hemp and is an excellent statewide resource for those whose work is focused on the issue.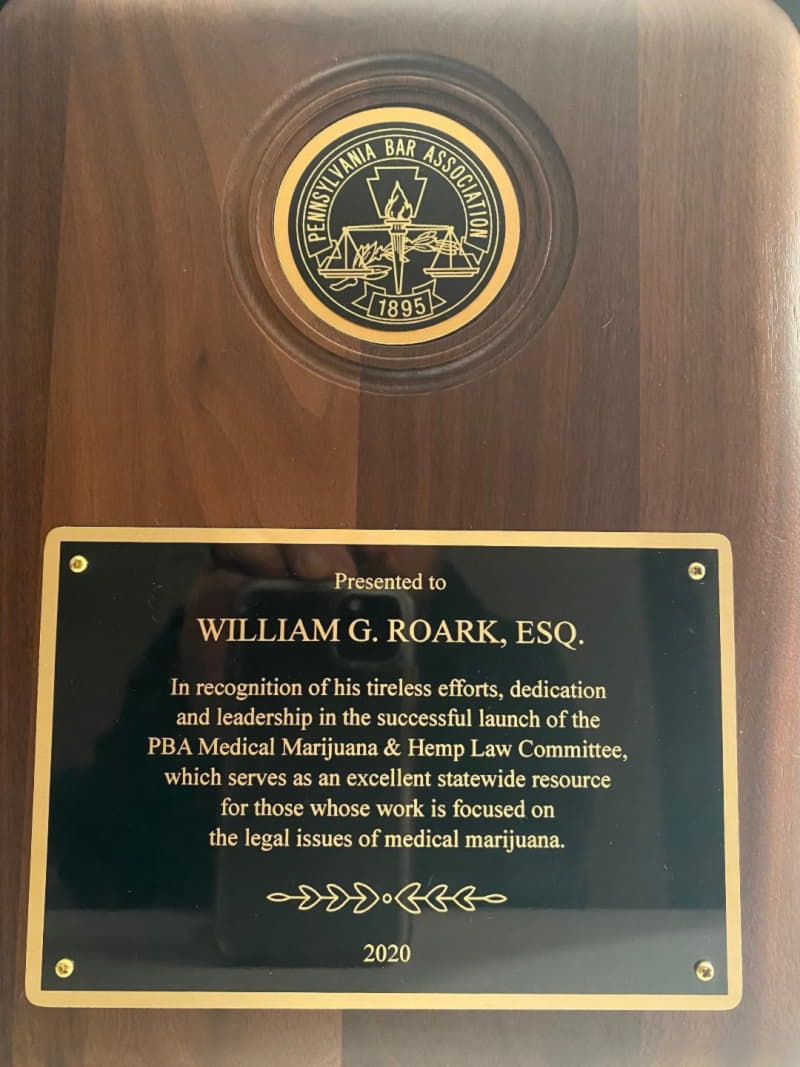 Bill, who heads the firm's Cannabis Law practice, has a long history of educating lawyers, college and law school students, and members of law enforcement on the state of the law. Bill provides substantive, value-added regulatory advice to companies operating in Pennsylvania's emerging cannabis market. Because he has remained on the forefront of the legislative development and implementation of the Act, Mr. Roark has been asked to present at various educational seminars--- teaching thousands of other professionals around the region.
This summer, Bill was selected as a "Rising Star" for 2020 by Law 360, a national publication that recognized 176 lawyers nationwide whose "legal accomplishments transcended their age." Bill was recognized for Cannabis Law with just two other lawyers. For eleven consecutive years (2010-2020) Bill has been named to the Pennsylvania Super Lawyers Rising Stars List. Each year, no more than 2.5 percent of the lawyers in the state are selected by the research team at Super Lawyers to receive this honor. Additionally, he is one of only thirty attorneys named to The Legal Intelligencer's 2018 "Lawyers on the Fast Track."
An active member of the Montgomery Bar Association, Bill is a past editor of the Montgomery County Law Reporter, past chair of the Environmental Law Committee and a contributing editor to Montgomery County's Civil Practice Manual. He serves as a member of the Board of Directors of Legal Aid of Southeastern Pennsylvania. A graduate of Bucknell University (B.A. Economics, cum laude, 2003), Bill received his law degree with honors in 2006 from Villanova University, where he served as a member of the Villanova Moot Court Board Executive Committee.
Hamburg, Rubin, Mullin, Maxwell & Lupin is one of the leading law firms in Eastern Pennsylvania providing legal counsel to businesses, municipalities and individuals in such areas as business law, litigation, real estate matters, municipal law, cannabis and hemp law, environmental law, trusts and estates, family law, criminal law and personal injury matters. The firm's singular focus is on achieving the best possible result for its clients. For more information, please go to www.hrmml.com.